The Great Barrier Reef. Queensland, Australia.
Please contact me for more details on any of these paintings. 
Click on any image to open Gallery and see the full picture and shopping cart.
***Some colours may vary on your viewing screen. Mostly they are more vibrant and bright!
Enjoy your trip on The Great Barrier Reef.
Please Contact me if you have any questions.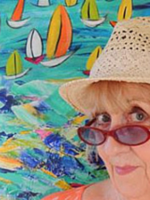 Like my Facebook Page for updates and news
Subscribe to You Tube channel and….
Follow on Pinterest
Yours in Art,
Lyn.