Let me create an original painting especially for you.
Your new artwork will  make a very special addition to your home. How about as a unique present for someone special.
I welcome the opportunity to work with you. Together we can develop ideas and see them evolve into a personal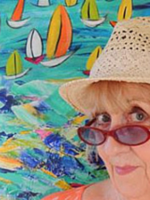 work of art, just for you!
Please contact me to begin our journey.
Yours in Art,
Lyn