Welcome to my Lyn Olsen website.
Exciting new offers and contemporary artworks with a marine theme.
I have been painting for 15 years after an early retirement and time on my hands.
Travelling my homeland, Australia, with my husband, who is a keen photographer, the deserts, rainforests, vast expanses of windswept plains, natural bushland, farming, cities, country towns, and of course the beautiful coast that surrounds this great land, have inspired my works over the years.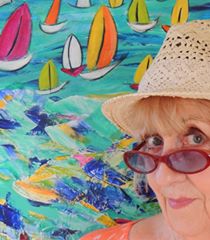 Having lived in most of these areas, I am drawn to the coast, in particular, the east coast of Australia where we currently live in the beautiful state of Queensland. The wonderful Great Barrier Reef runs from far north Queensland down past central Queensland along the coast and we are very proud to have this icon which is listed as one of the Seven Wonders Of The World on our doorstep.
My art career has evolved over the years from a "dabble" in painting to nearly a full time career. Teaching, exhibiting, and holding workshops keep me busy on the home front, but I enjoy showing my works overseas and having exhibited in New York, Italy and Miami, Florida has given me "self belief" and the drive to continue forward into the next phase of my career.
Acceptance into art publications and featured in an episode of Colour In Your Life TV Show which has been shown in Australia and other countries has opened many doors.  I have been busy conducting workshops in many states of Australia and recording online workshops for those who cannot attend in person.
Please feel free to contact me for a commission of your favourite subject. Corporate and private commissions are very welcome.
In closing,  I would welcome the opportunity to work with you to develop ideas for your special addition to your home.
Yours In Art
Lyn